SART Equipment Deployments and Contacts
SART has deployed Mobile Animal Response Equipment (MARE), Mini-MARE, livestock panels, and Animal Technical Rescue Trailers (ATR) at strategic locations in each RDSTF region as a region-wide asset. If a person/organization is in need of this equipment, prior approval must be obtained from the Emergency Management Director in the requesting county. A request may then be made with the contacts below to obtain the equipment for use. Any questions or concerns may be directed to Greg Christy at (850)410-0902 or Stephen Barineau at (850)410-0959.
MARE Unit: A MARE Unit (Mobile Animal Response Equipment) is a 16' open-sided steel livestock trailer stocked with small animal response necessities such as plastic animal crates, leashes, water and food bowls, generator, and cleaning equipment.
Mini-MARE Unit: A Mini-MARE Unit is a smaller, more mobile enclosed trailer, with 100 bowls and small animal crates of various sizes and a 20x10-foot shelter, but without a generator and some of the miscellaneous items in the full MARE Unit.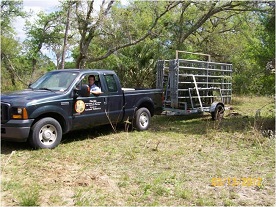 Livestock Panels: Livestock panels can be used for the quick setup of a temporary pen for livestock.
ATR Unit: An ATR (Animal Technical Rescue) Unit is an enclosed trailer containing equipment for both livestock and smaller animal technical rescues. Included are a portable A-frame/crane unit, rope systems, webbing, harnesses for large and small animals, and rescue glide for moving animals, a mud extrication system, and safety equipment for the responders.
Map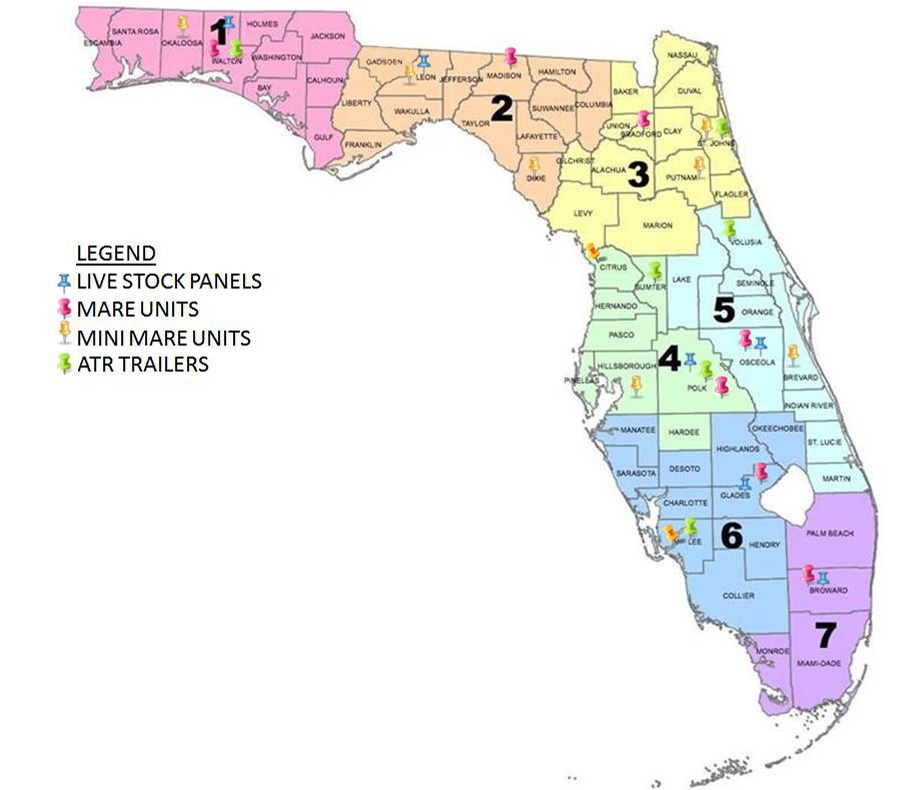 Contact
Type of Equipment
Custodian
Phone
Address
MARE Unit
Lois Marlow
(850)892-8682
365 Triple G. Road, DeFuniak Springs, FL 32433
Mini MARE Unit
Dee Thompson
(850)217-1515
752 Lovejoy Road, Fort Walton Beach, FL
Livestock Panels
Breezy Atkinson
(850)892-8186
752 Triple G. Road, DeFuniak Springs, FL 32433
Animal Technical Rescue
Breezy Atkinson
(850)892-8186
752 Triple G. Road, DeFuniak Springs, FL 32433
Type of Equipment
Custodian
Phone
Address
MARE Unit
Jamie Willoughby
(850)973-6495
2060 NE Rocky Ford Road, Madison, FL 32340
Mini MARE Unit
Scott Garner
(352)498-1240
17600 se Hwy 19, Cross City, FL
Livestock Panels
Greg Christy
(850)410-0902
3125 Conner Blvd., Tallahassee, FL 32399
Type of Equipment
Custodian
Phone
Address
MARE Unit
Brian Johns
(904)966-6336
945 B North Temple Ave, Bradford, FL 32091
Mini MARE Unit
Kelly Wilson
(904)209-6190
130 North Stratton Road, St. Augustine, FL 32084
Livestock Panels
Ryan Simpson
(386)326-2793
118 Fairgrounds Road, East Palatka, FL 32131
Animal Technical Rescue
Brian Erb
(904)829-2226
3657 Gaines Road, St. Augustine, FL 32084
Type of Equipment
Custodian
Phone
Address
MARE Unit
Sgt. Tommy Dixon
(863)287-9529
7115 de Castro Road, Winter Haven, FL 33880
Mini MARE Unit
Lora Peckham
(352)422-1603
3549 Sanders Way, Lecanto, FL
Mini MARE Unit
Robin Canton
(813)274-6664
4710 Sydney Road, Plant City, FL
Livestock Panels
Sgt. Tommy Dixon
(863)287-9529
7115 de Castro Road, Winter Haven, FL 33880
Animal Technical Rescue
Damon Allen
(352)572-3914
324 East Seminole, Bushnell, FL
Animal Technical Rescue
Sgt. Tommy Dixon
(863)287-9529
7115 de Castro Road, Winter Haven, FL 33880
Type of Equipment
Custodian
Phone
Address
MARE Unit
Kim Staton
(407)742-8000
3910 Old Canoe Creek Road, St. Cloud, FL
Mini MARE Unit
Michelle Jones
(321)637-6661
1746 Cedar Street, Rockledge, FL
Livestock Panels
Karl Froling
(386)527-0680
630 West Main St., Lake Helen, FL (Station 35)
Animal Technical Rescue
Karl Froling
(386)527-0680
630 West Main St., Lake Helen, FL (Station 35)
Animal Technical Rescue
Chad Cianciulli
(772)546-7850
6900 SE Ridgeway Terrace, Hobe Sound, FL 33455
Type of Equipment
Custodian
Phone
Address
MARE Unit
Angie Snow
(863)673-1837
4889 East State Road 78, Moorehaven FL
Mini MARE Unit
Glenn Johnson
(239)850-6742
5600 Banner Dr., Ft. Myers, FL
Livestock Panels
Angie Snow
(863)673-1837
4889 East State Road 78, Moorehaven FL
Animal Technical Rescue
Sgt. Randy Hodges
(239)258-3695
2501-3 Ortiz Ave, Ft. Myers, FL
Type of Equipment
Custodian
Phone
Address
MARE Unit
Ron Cooper
(954)410-1730
3100 NW 19th Terrace, Pompano Beach, FL
Livestock Panels
John Court
(863)993-4732
2150 NE Roan St. Arcadia, FL 34266