SART is a multi-agency coordination group consisting of governmental and private entities dedicated to strengthening all-hazard disaster capabilities through partnerships. Florida SART will support an effective and coordinated incident response for the animal and agricultural sectors in the State of Florida.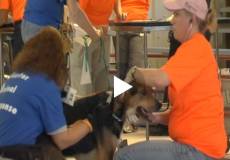 ---
Agriculture Commissioner Offers Tips to Prepare for Approaching 2016 Hurricane Season
During National Hurricane Preparedness Week, Commissioner of Agriculture Adam Putnam urges families across More ... Florida to prepare for the 2016 hurricane season that begins June 1. Read more inside.<< Back
---
Enrollment Open: Multiple Levels for Small Animal Emergency Sheltering
The Florida State Animal Response Coalition has upcoming opportunities for their Awareness Level and Operations Level Small Animal Emergency Sheltering. Read more inside.
---
USDA Announces $130 Million Available for Foundational Agricultural Research, Education, and Extension
The U.S. Department of Agriculture (USDA) last month announced that $130 million in funding is available for research, education, and extension projects to support sustainable, More ... productive and economically viable plant and animal production systems, including certified organic production. Read more inside.<< Back
---