---

Florida's Integrated Rapid Response Team Announces May Annual Meeting
AFlorida's Integrated Rapid Response Team (FLIRRT) will be hosting their Annual Meeting from May 15-17, 2017, in Lake Mary, Florida.
The purpose of this year's meeting is to gather our food safety and food defense partners in person, so when the time comes for a rapid response, we will have the knowledge and tools necessary to accomplish our mission.
Each person involved will have a better understanding of what would be expected from them and their agency in the event of a multi-agency response to an adverse incident.

Hotel/Meeting Location: Orlando Marriott Lake Mary; 1507 International Parkway, Lake Mary, Florida.
*All hotel reservations will be made through the FLIRRT coordinator. Please do not call the hotel and book on your own.
If you have any questions, contact Summer Williams at Summer.Williams@FreshFromFlorida.com
or 850-245-5535.

---
Enrollment Open: Operations Level Small Animal Emergency Sheltering Course
The Florida State Animal Response Coalition (FL SARC) has upcoming opportunities for participation in their Operations Level Small Animal Emergency Sheltering course.
When disaster strikes, a team of trained volunteer responders will be there to shelter and protect Florida's companion animals.

The Operations Level course will give you many new job options, in addition to leadership skills and team lead opportunities. This course expands upon information covered in FL-003-RESP and ICS-100 courses. These earlier courses are prerequisites for FL-607-RESP.
Course topics include: Personal Preparedness, Overview of the Incident Command System, Deployment Preparedness, Assisting in Shelter Set Up, Daily Care and Feeding, Proper Cage Cleaning and Disinfection, Animal Behavior, Stress Management, Zoonotic Diseases, and Personal Safety.
For more information about the courses, and to register, please visit: http://flsarc.org/Training.html
May 20-21 Course – Sarasota, FL

When: May 20-21, 2017
Where: Cat Depot Education Resource Center, 2542 17th Street, Sarasota, FL 34234
Details: If you are interested in signing up for this class, please contact Pam Burns, Volunteer Director, via e-mail at pamburnssarc@gmail.com. Ms. Burns will be able to tell you if she has already received all required documentation, or if you need to submit anything. If you need to submit additional information, you may e-mail it, or FAX it to 727- 474-3644. Once everything is received, you will get a confirmation for the class.
To be able to deploy to federally declared disasters and/or take this Operations Level Small Animal Emergency Sheltering course, you must have proof of the following:

FL SARC Awareness Level Small Animal Emergency Sheltering class completion
Current Tetanus vaccination
FEMA IS-100 (online and no charge)
---
2017 SART Planning Meeting Marked as a Success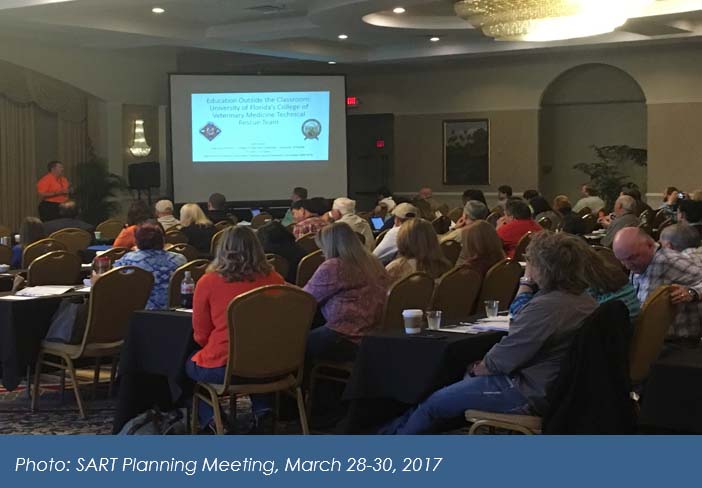 In March, SART sponsored another successful Biennial Planning Meeting at the Plaza Resort and Spa in Daytona Beach, Florida. FDACS employees, SART members, emergency management personnel, and IFAS extension agents came from around the state to share knowledge and enhance agricultural emergency response networks. The meeting took place from March 28-30, with different topics covered each day.
Tuesday, March 28
The meeting kicked off with presentations including an overview of SART, agriculture-related homeland security intelligence, food safety response, and vector control. The first day concluded with a reception hosted by the State Animal Response Coalition.
Wednesday, March 29
Topics covered on Wednesday encompassed emergency animal sheltering, the Zika Virus, large animal rescue, resources available through IFAS extension offices, and available trainings.
Thursday, March 30
The meeting concluded with presentations on homeland security funding, New World Screwworm response, the reasons for SART county visits, and sheltering in Jacksonville during Hurricane Matthew.
The presentations provided a plethora of knowledge for attendees to take back to their local communities. The knowledge of available resources gained by planning meeting attendees allows for more coordinated and efficient response during an emergency. SART would like to thank all of those who attended the meeting and especially those who presented. The meeting could not have been a success without you!
Submitted by Sara Thomas, Apalachee Regional Planning Council
---
---