SART is a multi-agency coordination group consisting of governmental and private entities dedicated to strengthening all-hazard disaster capabilities through partnerships. Florida SART will support an effective and coordinated incident response for the animal and agricultural sectors in the State of Florida.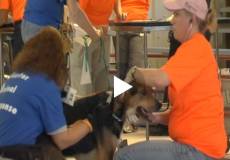 ---
U.S. Beef Exports Continue to Outperform Pre-BSE Levels
Following the discovery of a case of bovine spongiform encephalopathy (BSE) in December 2003, U.S. beef and beef product exports fell. Since 2003, USDA has led a multi-agency, full-court press, More ... dedicating significant resources to restore foreign market access for U.S. beef. Read more.<< Back
---
Enrollment Open: Multiple Levels for Small Animal Emergency Sheltering
The Florida State Animal Response Coalition has upcoming opportunities for their Operations and Awareness Levels Small Animal Emergency Sheltering courses. Read more.
---
Large Animal Responses Planned Long Before an Emergency
Citrus County UF Extension Service has partnered with the county sheriff's office, other agencies and agricultural stakeholders to prepare a multi-incident Large Animal Emergency Response Plan. Read more
---