SART is a multi-agency coordination group consisting of governmental and private entities dedicated to strengthening all-hazard disaster capabilities through partnerships. Florida SART will support an effective and coordinated incident response for the animal and agricultural sectors in the State of Florida.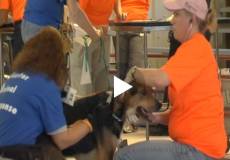 ---
Australia Successfully Eradicates Equine Influenza, Results in Great Achievement for Veterinary Medicine
The successful eradication of equine influenza from Australia was one of the greatest achievements of veterinary More ... medicine in recent years, a recently published review suggests. Read more inside.<< Back
---
Enrollment Open: Operations Level for Small Animal Emergency Sheltering
The Florida State Animal Response Coalition has upcoming opportunities for their Operations Level Small Animal Emergency Sheltering. Read more inside.
---
IFSAC Analysis Improves Understanding of Foodborne Illness Attribution
Scientists from the Interagency Food Safety Analytics Collaboration (IFSAC) recently published "Comparing Characteristics of Sporadic and More ... Outbreak-Associated Foodborne Illnesses, United States, 2004–2011," a paper in Emerging Infectious Diseases that compared some characteristics of outbreak and sporadic (non-outbreak) human illnesses caused by Salmonella, Escherichia coli (E. coli) O157, Listeria monocytogenes, and Campylobacter. Read more inside.<< Back
---