---
It's Here! The 2017 SART Planning Meeting Kicks off on March 28th
Don't delay, register now for the biennial SART Planning meeting!
Kicking off on the afternoon of Tuesday, March 28th, in Daytona Beach, Florida, the organizers say that "With new courses, workshops and sessions, there will be plenty to learn and many opportunities for you to be a part of SART's future!"
The SART Steering Committee has designed this program to familiarize participants with disaster situations and provide background information on animal and agriculturally-related emergency management issues.
A program Web site with complete registration information has been established online at: http://www.cvent.com/events/2017-sart-planning-meeting/event-summary-42c798626219496f9743dc82246ec0c5.aspx.
The planning meeting sessions will take place at The Plaza Resort & Spa. There is no cost to attend, and the event is open to county emergency management directors, IFAS Extension staff, and SART partner agencies.
For conference-related questions, please contact CMC & Associates at (850) 224-7775 or mnorton@cmc-associates.com.
A detailed meeting agenda is outlined on following picture.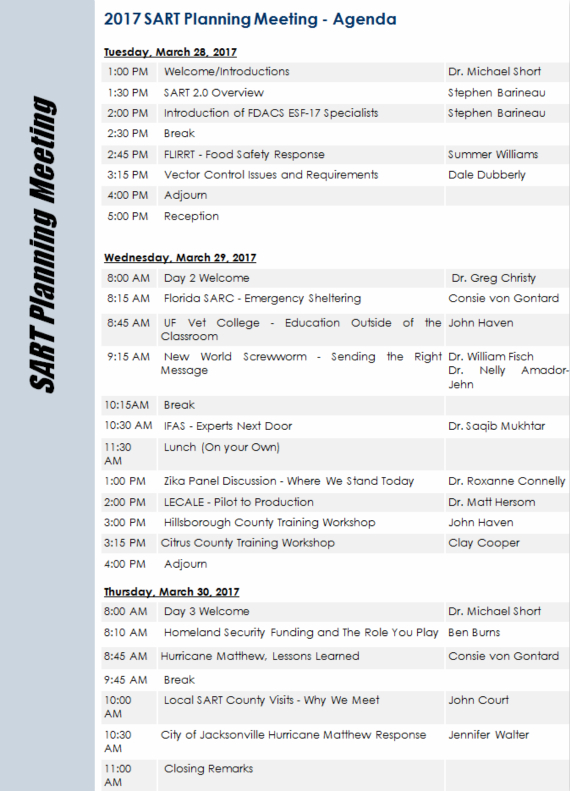 ---
SART and Hillsborough County Host Pet Friendly Shelter Workshop
By Sara Thomas, ARPC
Between Tropical Storm Colin, Hurricane Bonnie, Hurricane Hermine, and Hurricane Matthew, there were not many places in Florida that did not experience threatening weather conditions at some point during the 2016 Hurricane Season. The active season prompted many counties to open shelters for residents and evacuees, something Florida has not had to do in quite some time.
Hillsborough County, in coordination with SART, decided they were not going to wait for a major disaster to test and improve their sheltering abilities. On February 19th, Hillsborough County and SART hosted a pet-friendly shelter workshop at the Hillsborough County Fairgrounds.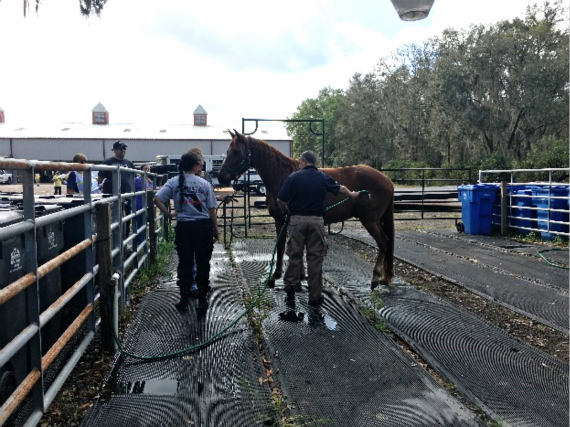 Despite the beautiful blue skies, the simulated hurricane that had passed through Hillsborough County the night before left a path of destruction and flooding, causing residents, some with their pets, to seek shelter other than their homes. These circumstances provided an opportunity for community partners to work together to practice their pet and human sheltering capabilities.
SART was especially excited to test out a new tracking software, the National Mass Evacuation Tracking System (NMETS), to make tracking and family reunification more fluid through issuing wristbands with unique barcodes and scanning evacuees as they move through the sheltering process. The simulation also contained separate areas for owned animals, strays, and animals that may need to be quarantined.
Early in the morning, busloads of survivors and pets began showing up at the shelter.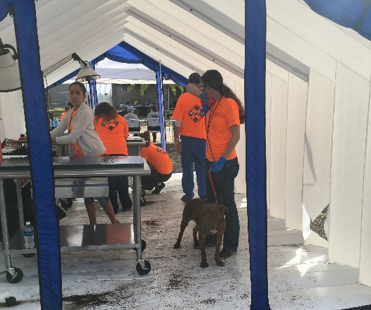 From there, people without animals were shown to the Red Cross shelter check-in, while those with pets and any unowned animals went to the pet shelter triage to be seen by members of the University of Florida Veterinary College. The animals would then be treated and decontaminated if necessary before moving into the pet shelter being staffed by the State Animal Response Coalition (SARC). The pet shelter was co-located to the Red Cross human shelter and contained separate areas for owned animals, strays, and animals that may need to be quarantined.
Once it was safe for the survivors to return to their homes, shelter staff began the reunification and check-out process. Using the wristbands, which linked a pet to their owner in the NMETS system, and photographs taken at intake, the pet shelter staff could identify pet owners and reunite them with their pets.
The workshop was an excellent opportunity to bring together many community partners who would not work together under normal conditions. The Hillsborough County Fire Hazmat team, Pet Resource Center, Animal Control, Sheriff's Office, Emergency Management, American Red Cross of Tampa Bay, University of Florida College of Veterinary Medicine, Humane Society of Tampa Bay, Sunshine Line, Hillsborough Area Transportation Authority (HART), and the State Animal Response Coalition, with support from the SART and FEMA, all worked together to create a safe and effective sheltering workshop.
---
Enrollment Open: Awareness Level Small Animal Emergency Sheltering Course
The Florida State Animal Response Coalition has upcoming opportunities for their Awareness Level Small Animal Emergency Sheltering course.
When disaster strikes, the team of trained volunteer responders will be there to shelter and protect Florida's companion animals.

The Awareness Level course gives students the knowledge necessary to work in an emergency animal shelter. This class provides expertise and practical experience required to become a professional disaster animal responder. The Awareness Level Small Animal Emergency Sheltering course is certified by the Florida Department of Emergency Management and is required to respond in Florida to help companion animals and their owners during a disaster.
Course topics include: Personal Preparedness, Overview of the Incident Command System, Deployment Preparedness, Assisting in Shelter Setup, Daily Care and Feeding, Proper Cage Cleaning and Disinfection, Animal Behavior, Stress Management, Zoonotic Diseases, and Personal Safety.
For more information about the courses, and to register, please visit: http://flsarc.org/Training.html.
April 8 Course – Sarasota, FL
---
When: Saturday, April 8, 2017, from 8:00 AM to 6:00 PM
Where: Cat Depot Education Resource Center, 2542 17th Street, Sarasota, FL 34234
April 23 Course – Tallahassee, FL
---
When: Sunday, April 23, 2017, from 8:00 AM to 6:00 PM
Where: Capital Area Chapter of the American Red Cross, 1115 Easterwood Drive, Tallahassee, FL 32311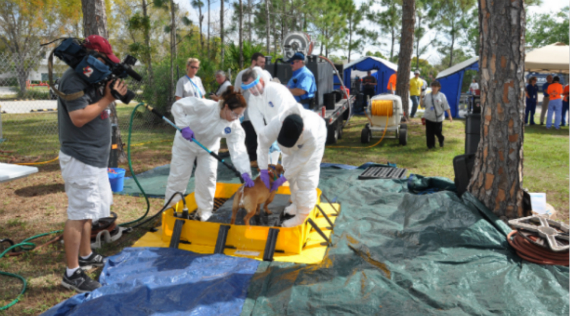 ---