---
Impacts of an Agro-terrorism Attack on America's Food Supply Chain Would be Disastrous
The Sunshine State is no stranger to natural disasters ― hurricanes, floods, droughts and wildfires have done their share of damage in Florida. With 14 seaports and over 800 airports and airfields, the state is also at risk for man-made disasters.
75 million tourists and billions of tons of freight enter Florida each year, making it vulnerable to threats like disease introduction and agro-terrorism.
In a recent report posted online at The Daily Caller, authors Kyle Landry and Greg Keeley talk about the dangers the nation would face if a major agro-terrorism attack were to take place.
"An EMP attack would affect the entire food supply chain from farm to table. Modern farm equipment would be offline, leaving thousands of acres of crops unharvested. Temperature controlled distribution warehouses would be offline, leaving thousands of pounds of food to perish. An almost instant food shortage would sweep the country. The agriculture and food industry is one of the 16 core planks of survival determined by the Department of Homeland Security (DHS). Yet the sector receives scant attention."
To read the full story, visit:
http://dailycaller.com/2017/12/20/dont-be-alarmed-but-agro-terrorism-could-be-disastrous-for-americas-food-supply-chain/
---
UF VETS Update: Animal Technical Rescue Trainings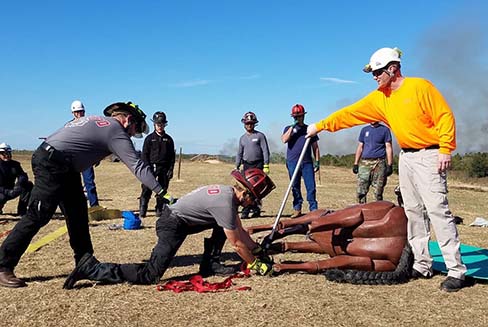 The Universtiy of Florida (UF) Veterinary Emergency Treatment Service (VETS) Animal Technical Rescue Team is expanding their instructor cadre to include several firefighters who have participated with the team extensively in the past. Last month, Josh Fleming (UF VETS), Brandi Phillips (UF VETS), and Brian Erb (St. Johns County Fire Rescue) took the operations level Animal Technical Rescue Course to Polk County. Members from the Polk County Sheriff's Office, Lakeland Fire Department, Hillsborough County Sheriff's Department, and Tampa Police Department worked through a variety of exercises to better prepare themselves for animal rescue scenarios in the field.
Shortly after the Polk County class, Lee County Sheriff's Office hosted an operations level training class and brought in members from Collier County Sheriff's Office. This time the instructor team was joined by Matt Brown of Lakeland Fire Rescue. The two-day course includes rope rescue techniques applied to large animal loads, low angle and high angle rescues, and ends with a capstone experience in which participants plan and execute a mock rescue scenario as a team.
---
SART Hosted K9 Handler/First Responder Scope Training
Last month, Florida SART held a 2-day "K9 Handler/First Responder Advanced Scope" training class for canine handlers and their working canines. This training was paid for by SART (all instructor costs and student tuition).
Partnering with educators from the K9 MEDIC™ training program and SynDaver Labs, the course provided canine handlers a unique, advanced scope training format within a scenario-based and comprehensive hands-on training environment. The training class was geared for those handlers and first responders who will face environments which require additional medical support for their canines.
While students were practicing restraints, and presented with the scenario of an injured K9 and/or K9 handler, Dr. Pasek, K9 MEDIC said, "It's about giving your team secrets for the safety of you and the safety of your dog."
Course highlights on Day 1 included practiced restraints – restraint is a very important first step, because it allows us to proceed with the intervention we need, such as Intravenous (IV) therapy; basic life support skills; airway skills, massive bleeding and bandaging skills…"Get pressure, keep pressure" is what instructor, Jo-Anne Brenner, stressed during this skills station.
Day 2 dealt with toxins (including NARCAN); Needle Decompressions for GDV/Bloat and Tension Pneumothorax; Heat, Hydration and Hypothermia; IV Therapy.
LeiAnna Tucker, SART Coordinator, said "SART wants to continue supporting the dedicated members of our law enforcement and search and rescue communities, and its canines that are such a valuable component and play a special role in its effectiveness. By partnering with K9 MEDIC and SynDaver, SART really tried to bring you a unique training experience that focuses on protecting and caring for your canine."
Ms. Tucker continued by saying, "By teaching you – the handler – how to learn and apply these pre-veterinary emergency medical skills for your canine in the field, you are preparing yourself and your canine to be the best possible whether being presented with a missing child, a massive hurricane, or even an act of terrorism you are called to assist with."
Students and participants included representation from Florida SARC, National Veterinary Response Team, Florida Alliance of Search and Rescue K9 Inc., Collier County Emergency Services, Okaloosa County Sheriff's Office, Bay County Sheriff's Office, Santa Rosa County Sheriff's Office, Tampa Police Department, Florida Fish and Wildlife Conservation Commission, Hillsborough County Sheriff's Office, Miami-Dade Policy Department, and FDACS Office of Agricultural Law Enforcement.
To view more photos and videos from this event, visit SART's online Media Gallery at:
http://flsart.org/mediagallery/
---
---