---
UF/IFAS Extension Service and Seminole County Deliver Large Animal Handling Training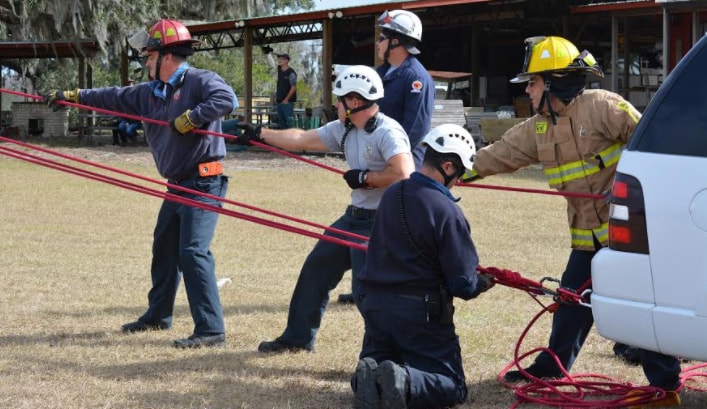 After the raging fires in 2017 combined with a Hurricane, Seminole County's Emergency Management Team recognized there was a real need for Large Animal Handling Training for First Responders and reached out to the UF/IFAS Extension Service, Seminole County for help in training.
After several meetings with the Seminole County Sheriff's Department Range and Water Officers along with First Responders in Fire and Rescue, Seminole County's 4-H Agent Chelsea Woodard, Orange/Seminole County's Ag and Natural Resources Agent, JK Yarborough and County Extension Director, Barbara Hughes, developed the training program for First Responders at the Yarborough Ranch. 4-H Youth brought their steers for observation on flight zone patterns and cattle behavior. Other 4-H Youth brought their horses and helped First Responders learn how to successfully halter and lead their horses around the arena.
In the afternoon, Sergeant Chris Stronko from Seminole County Sheriff's Department talked about the roles of the Range and Water portion of the Sheriff's Department and the responsibilities of each responder during an emergency. John Haven II from UF's College of Veterinary Medicine Veterinary Emergency Treatment Services (VETS) and Battalion Chief Karl Frolong Jr. with the Lake Helen Fire Department Tactical Rescue provided hands on training with a Tactical Response scenario.
There were 33 participants from the Seminole County Sheriff's Department and Fire/Rescue First Responders and seven selected 4-H Senior Youth members. Sponsors for the event included DUDA Ranches, Walmart, and Ed Yarborough Ranches, Inc. Evaluations for this seven-hour training provided feedback saying all had become more confident in tactical responses, were grateful for the hands-on training and were grateful for the high caliber of the trainers. Plans for future trainings are already underway.
---
UPDATE: Support of Puerto Rico Evacuee Operations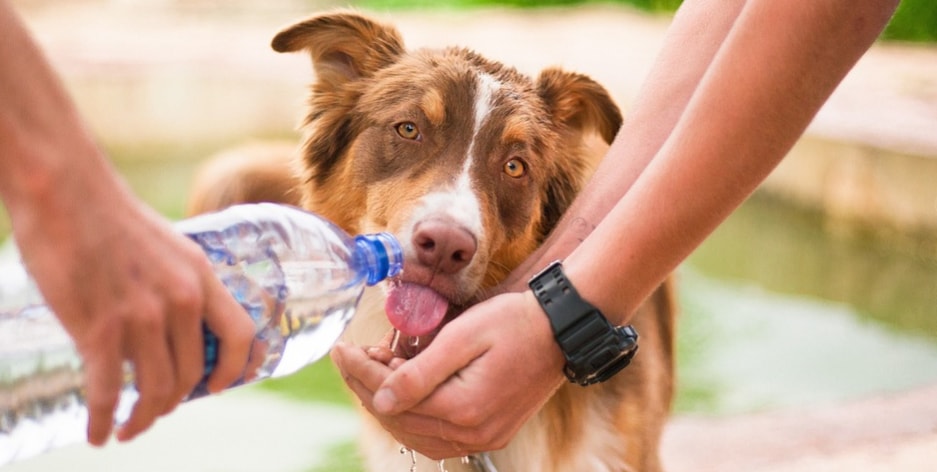 The Commissioner of Agriculture's Emergency Order (3rd Extension) expired on January 27, 2018. The Department has decided not to extend the Emergency Order. Therefore, on January 27, 2018, the following provisions of Rule Chapter 5C-3, Florida Administrative Code, resumed and will remain in effect:
(1) Rule 5C-3.002(1), F.A.C. – All animals OCVI/Health Certificates requirement;
(2) Rule 5C-3.009 (1) and (3), F.A.C. – Dogs and Cats OCVI/Health Certificates and rabies vaccination requirements; and
(3) Rule 5C-3.0012(1), F.A.C. – Domestic Fowl OCVI/Health Certificates requirement
From October 2, 2017, through January 27, 2018 (117 days), the Emergency Order temporarily suspended the import rules for evacuees arriving with dogs, cats, birds and other small mammals wherein pets were exempt from the import health certificate (Official Certificate of Veterinarian Inspection) and/or proof of rabies vaccination.
---
Enrollment Open: Multiple Courses for Small Animal Emergency Sheltering
The Florida State Animal Response Coalition has upcoming opportunities for their Operations Level 2 Small Animal Emergency Sheltering and Awareness Level courses
When disaster strikes, the team of trained volunteer responders will be there to shelter and protect Florida's companion animals.
The Awareness Level 1 course gives students the knowledge necessary to work in an emergency animal shelter. This class provides expertise and practical experience required to become a professional disaster animal responder. The Awareness Level Small Animal Emergency Sheltering course is certified by the Florida Department of Emergency Management and is required to respond in Florida to help companion animals and their owners during a disaster.
The Operations Level 2 course gives many new job options, in addition to leadership skills and team lead opportunities. This course expands upon information covered in FL-003-RESP and ICS-100 courses. These earlier courses are prerequisites for FL-607-RESP.
Course topics include: Personal Preparedness, Overview of the Incident Command System, Deployment Preparedness, Assisting in Shelter Setup, Daily Care and Feeding, Proper Cage Cleaning and Disinfection, Animal Behavior, Stress Management, Zoonotic Diseases, and Personal Safety.
For more information about the courses, and to register, please visit;
http://flsarc.org/Training.html
---
---