2023 SART Planning Workshop
June 6th- 8th, 2023 | Daytona Beach FL | The Shores Resort and Spa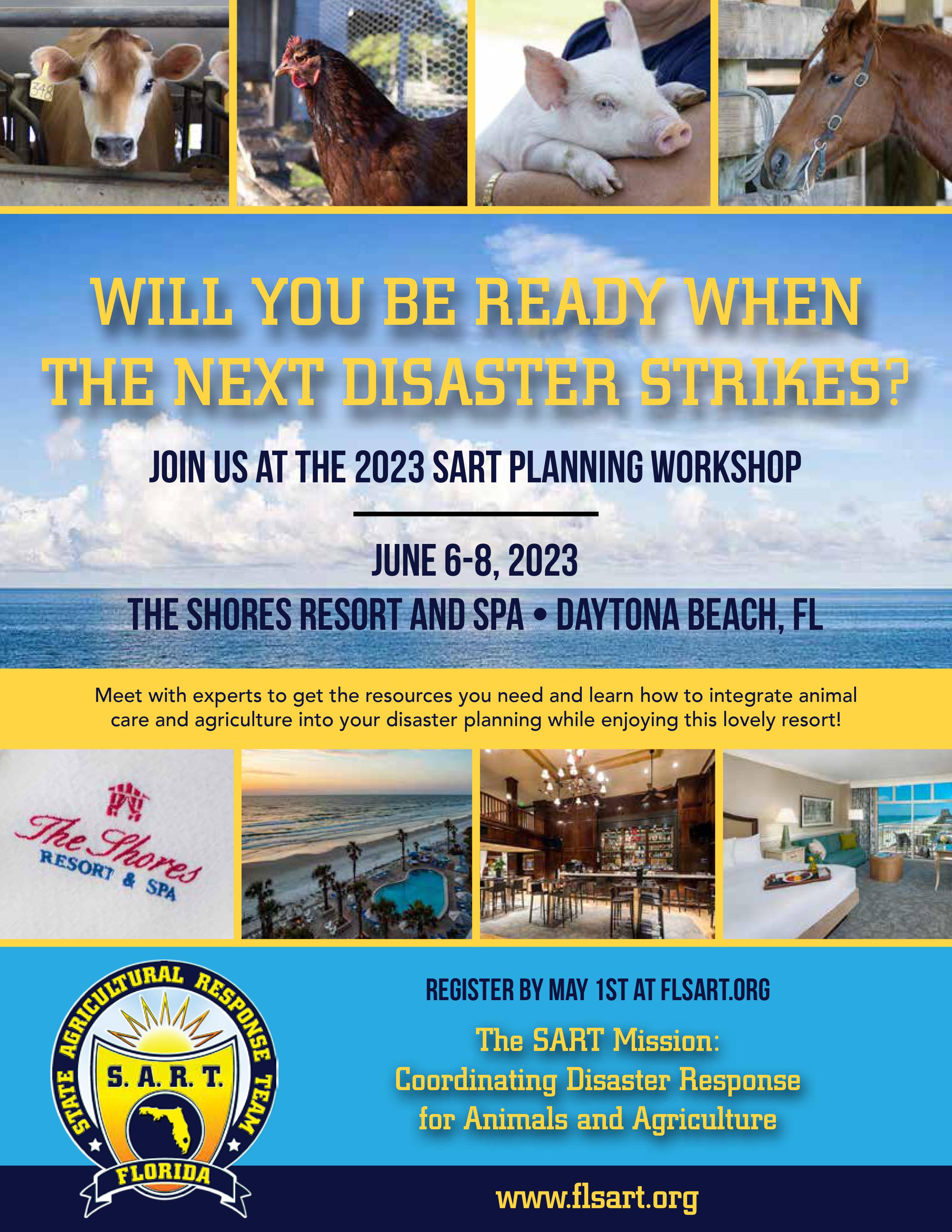 Workshop Program
Sponsored by the Florida State Agricultural Response Team (SART), the 2023 SART Planning Workshop is a statewide conference serving Florida's county emergency management professionals and SART partner agencies. The purpose of the workshop is to present a statewide forum where SART leaders and experts in the fields of animal care and agriculture can share best practices and resources for integrating animal care and agriculture into disaster planning.
WORKSHOP PROGRAM
Who Should Attend?
THIS WORKSHOP IS BY INVITATION ONLY. THIS WORKSHOP IS NOT OPEN TO THE PUBLIC. PLEASE READ THE FOLLOWING CAREFULLY.
An invitation was e-mailed to a select list of Florida county and state personnel and SART partner agencies who are directly involved in ESF 17 animal/agricultural issues. Priority is given to the people on this invitation list.
If your name is not on the invitation list, you may still submit a registration application. Please read important information about the Registration Application below.
Hotel Sponsorship Opportunity: SART will sponsor a limited number of hotel rooms at The Shores Resort and Spa for our invited guests. This sponsorship will pay for the 2-night hotel room of $149 per night on June 6th and June 7th and will include the specially offered amenities listed below. This hotel sponsorship does NOT cover any other travel expenses. You can request to be considered for the hotel sponsorship when completing your Registration Application. You will not need to reserve a room under the group rate if you are selected for the hotel sponsorship.
Additional nights: The Shores Resort and Spa is offering a limited number of rooms at the group rate of $149 for one day before the workshop and one day after the workshop (Monday and Thursday nights). You need to make reservations for additional nights as soon as possible. The additional nights are at your own cost. Otherwise, you are subject to pay prevailing rates for two additional nights before or after the workshop (at the time the reservations/request is made). To reserve additional nights at the group rate, please call The Shores Resort and Spa directly at the following contacts:
a. April Floyd, Reservations Manager, 386-944-2691 or Kary Hartman, Conference Services Manager, 386-322-7254.
The hotel sponsorship and group rate include the following special hotel amenities:
1. Smores kit.
2. $5 Parking for overnight guests (one car per room) paid by attendee.
3. Basic Wi-Fi.
4. 2 bottles of water provided upon check-in.
5. Access to Fitness and Business Centers, DVD library, Live Entertainment, Daily Resort Activities, and more.
Registration Application
ALL REGISTRATION APPLICATIONS WILL BE REVIEWED PRIOR TO APPROVAL AND CONFIRMATION OF REGISTRATION. YOUR REGISTRATION APPLICATION DOES NOT GUARANTEE YOU A SPACE AT THIS WORKSHOP. PLEASE READ THE FOLLOWING CAREFULLY.
1. After you submit your registration application, the SART workshop organizer will review it for approval.
2. You will receive an e-mail from the SART workshop organizer within 7 days regarding your approval to attend, and hotel sponsorship decision if you selected 'yes' to be considered.
3. There is no fee to register.
4. Deadline Extended! Last day to submit your registration application is May 26th by 11:59pm.
Contact
For questions, please contact the SART workshop organizer, Emily Nolen, at office phone (850) 410-0931or via e-mail at Emily.Nolen@fdacs.gov.